Heckler & Koch MP5 A5 .22LR
Background -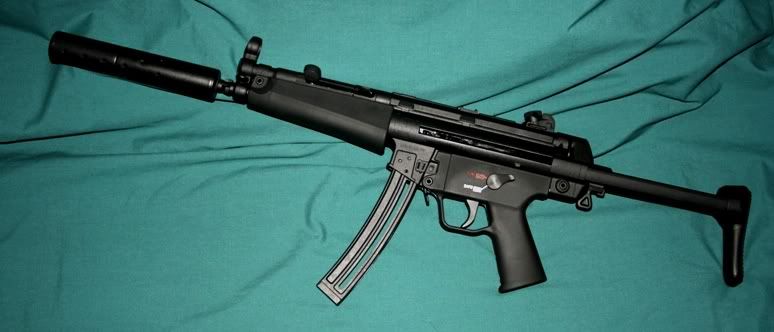 For those who don't know, the real Heckler & Koch MP5 is a 9mm submachine gun that was developed in the 1960s. It was, and in some cases still is, popular with police and military special operations groups due to its accuracy, compact size, ease of control, full auto capability, and its chambering in a pistol caliber. This made it ideal for close quarters battles, boarding ships at sea, and other similar purposes. As a testament to its popularity, there are over 120 variants today including trigger groups allowing single fire only, full auto, and 2 or 3 round burst options. According to HK, there is even a variant that can be fired from inside a specially designed briefcase.
The real MP5 is not widely available to civilians here in the United States due to federal law, including the National Firearms Act, which regulates fully-automatic firearms and short barreled rifles (an SBR has a barrel less than 16" long). The regulations prohibit the import of newly manufactured fully-automatic rifles, and HK has chosen not to make a semi-auto only, non-SBR, version of it for sale to the general public.
In the past, if you wanted to shoot one, own one, or have a replica for plinking, you were pretty much out of luck or confined to an unlicensed .22LR replica. That replica was made by German Sport Guns and imported by American Tactical Imports. HK wasn't receiving a slice of the profits, which leads to the next point. Things got even more bleak for MP5 enthusiasts a year or so ago. HK forced GSG/ATI to either redesign their unlicensed versions to appear less like the MP5, or to cease manufacturing those firearms entirely. That left the enthusiast with the option of either finding an older GSG-5 or buying a new GSG-522* design and fitting old parts to make it look more realistic.
However, for those wanting an MP5 .22LR replica, complete with markings that more closely resemble the original, things have recently improved. HK recently decided to officially license the appearance of the MP5 to Carl Walther for production of a rimfire replica. Walther is now producing .22LR replica MP5 rifles at its facilities in Germany, and they are imported into the United States by Umarex. These rifles even carry an MP5 model name.
While some competing "tactical" .22LR firearms, such as Smith & Wesson's M&P15-22, are using polymer for the upper and/or lower receivers of their replicas, Walther is producing these out of metal. This gives the A5 the approximate weight and feel of a real MP5. Another bonus is that the bolt locks back on an empty magazine, while some competing rifles such as the "Colt" Ar-15 do not (notably, the S&W does have a bolt lock and is a nice rifle).
The MP5 A5 rimfire, which is the subject of this review, most closely resembles the real HK MP5-N 9mm submachine gun built for the U.S. Navy SEALs by HK, which included a "wet technology" stainless steel sound suppressor. The MP5-N suppressor could be removed according to mission requirements, which, along with its collapsing stock, left a very compact and maneuverable gun. The suppressor was even capable of firing while full of water. The MP5 SD rimfire, which is also now available, resembles the real MP5 with an integrated suppressor.
I was recently on the hunt for something a little more unusual in my neck of the woods, and after a look at several options, I decided to purchase one of these. After a brief search, I was able to find an A5 version for about $440 out the door. This puts it in about the same general price range as competitors' rimfire replicas of popular "black rifles," such as the Sig 552 and S&W M&P15-22.
First Impressions -
The rifle comes in a wide, yet short, plastic rifle case of the same external style used by Beretta for their Cx4 carbines. This one carries the Walther logo, with no mention of HK other than on the serial number sticker. This isn't too terribly surprising since Carl Walther is manufacturing the rifle.
Inside the case, you will find that everything pretty much says HK on it rather than Walther. There are firearm safety brochures, merchandising, warranty registration card, a manual, a single 25 round magazine, various small tools, and the rifle itself. A flimsy blue plastic chamber flag was in the chamber to protect it during shipping. It isn't strong enough for repeated use at the range or elsewhere (mine broke the second time I handled it).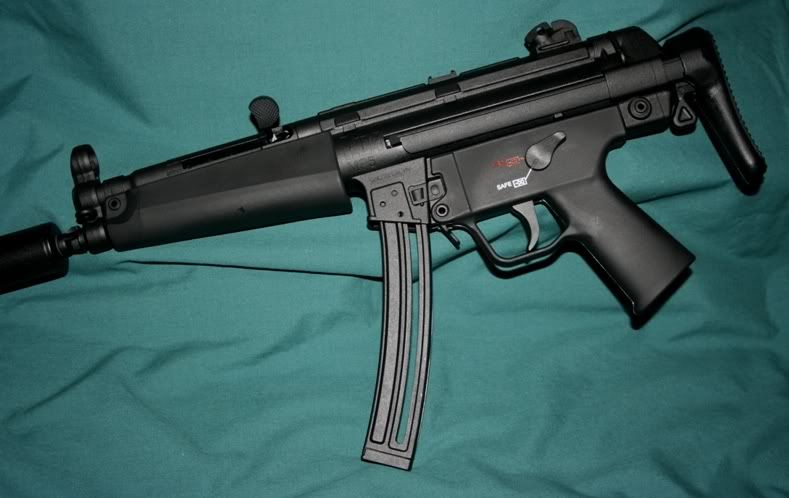 The rifle is 33.8" in overall length with the stock fully extended, or 26.8" at full retraction. To fit inside the case, it comes with the stock retracted. It weighs a hair under 6 lbs empty. It sports HK style sights, with a hooded front sight and a rotary diopter rear sight. Both are adjustable for elevation, while windage is controlled at the rear sight only.
The entire rifle has a nice and even matte black finish. It is more matte in practice than it appears in the pictures accompanying this rifle. The faux suppressor has a rougher texture and is a bit more reflective, and has a dimpled surface. The markings on the receiver, including the pictographic markings for the safety/selector switch, are in white and red. Since this is a semi-auto rifle, there is no selector position for full auto and accordingly no pictograph for full auto. The forearm is the standard MP5 style, and it has the NAVY pistol grip. The grip is hollow but not enclosed for storage like you might see on some AR-15 grips.
According to Walther, the A5 rimfire uses a match grade precision barrel with a 3 lug faux compensator. This allows the rifle to appear to have a "silencer" on it while hiding a full 16.1" length barrel inside. If the barrel had been made shorter as on a real MP5, it would have required the additional paperwork and a $200 fee as an SBR (short barreled rifle).
The rimfire MP5 uses a simple blowback, semi-auto operation. This should help in the reliability department. Magazines are polymer with thumb tabs on each side to assist with spring compression while loading. The magazine proved very easy to load, even more so than the similar S&W M&P15-22 mags.
Standard mags are 25 rounds, while ban state compliant magazines are limited to 10 rounds. These mags are sized and shaped to look like a real MP5 magazine, with the exception of the channels cut into the side where you can see how much ammunition you have loaded.
Fit and finish on this rifle are some of the best I have seen on a semi-auto rimfire, especially a "tactical" one like the MP5 A5. It comes across as a real rifle, and not as a cheap knockoff. Parts fit well, and there were no rough or unfinished edges to grab you or detract from its appearance.
Handling -
Magazines can be released from the rifle one of two ways. The first is with the lever between the magazine and trigger guard. The second is with a button that falls near your right index finger when it is in the rest position (out of the trigger guard and pointing straight along the receiver). I like this feature, because you can use it like an AR-15 or sort of like a 10/22 depending upon what you are used to shooting. It also lets you access the magazine release from either side of the rifle.
While we're discussing ambidextrous features, the safety lever and pictographs are present on both sides of the rifle. The safety has a nice little snap into position when engaging or disengaging it. It is right where it needs to be for quick use with your thumb.
The charging handle moved smoothly and easily engaged/disengaged another great feature of this rifle - its bolt lock/last round hold open. Why is a bolt lock important? There are a few reasons. First, if you lock the bolt back, it is easy to show a clear chamber on the firing line. Secondly, if it locks back after the last round is fired, it prevents you from dry-firing the rifle inadvertently, which can damage rimfires over time. Finally, it allows easier function checks, cleaning, and other handling of the rifle.
The collapsing stock is aggressively textured, which gives it pretty good purchase when you shoulder the rifle. If you have it collapsed and want to shoulder it, there is not enough room to get a sight picture through both irons. It would be more useful to use a single point sling with the collapsed stock and provide support that way, which would allow you enough room to use the sights. If you want a fixed stock, it is supposed to be available as an accessory.
The sights are pretty easy to adjust, and so far have held adjustment without needing Loctite or anything like that. That's a good sign, because there is just the tiniest bit of recoil in a rimfire like this and it shouldn't have things loosening up on you. The rear rotary diopter moves easily and has positive detents on each of its settings.
If you prefer an optic, either a scope or "red dot" type sight, a picatinny rail accessory is going to be released that will attach to the top of the upper receiver. Something like a Burris FastFire II would be excellent on this rifle. The rail wasn't available anywhere when I wrote this review, so I didn't have a chance to test it.
Takedown of the rifle is very easy. Three pins hold it together. The first pin holds on the forearm. The second pin holds the receivers together at their front edges, while the last pin holds the rear edges of the receivers and the butt stock assembly. The stock assembly slides over the upper and lower and the pin is inserted through all three. It is actually much more stable than it sounds like and at first I didn't realized only a pin mechanically held the stock on the rifle.
Since this rifle comes apart so well, it is much easier to clean than some other rimfires. Even though the chamber, magazine well, and other parts are small due to the small size of the cartridge, access to them is enhanced greatly by the way it field strips. You also don't need any tools to take it down, unless you also want to take off the suppressor. A special wrench is supplied for that task.
Finally, the rifle was well oiled and not covered in thick greases or preservatives, so cleaning and lubricating it before the range trip was a snap.
Range Report -
This rifle is great fun to shoot. Being a rimfire, there is much less noise to deal with, and recoil and muzzle flash are so slight as to not even be noticeable. I've had this rifle for less than a week, so I've only been able to take it to the range once, but I blew through quite a bit of ammo in the process.
The manual recommends high velocity ammunition, and if you use the standard fare you may have problems with proper cycling of the weapon. The rifle even has the caliber stamped on the receiver as "Cal. 22LR HV". I used a variety of CCI, Federal, Winchester, and American Eagle round nose high velocity ammunition without any major issues.
I did have a few rounds out of several hundred fail to fully chamber, as is sometimes common in semi-auto rimfires, but not enough to where I suspect there is anything wrong with the rifle. I haven't tried any hollow point rounds yet, so they may or may not have feeding issues. Firing pin strikes were solid and the pin shouldn't be the cause of any misfires. I didn't have any misfires, but I stayed away from Remington ammo as it recently seems to be the most prone to that.
I wasn't able to do a full blown accuracy potential test without the scope mount and an optic, but this rifle is pretty accurate with the iron sights. The range setup I was able to use this time wasn't conducive to shooting from a prone or seated field position, so I was limited to shooting standing offhand or shooting from a high bench. Shooting at 25 yards is a piece of cake, 50 yards is pretty good, and 75 - 100 yards is doable if you have a steady hold.
As mentioned, either a slinged up prone position or a bench rest and a scope would make for a more definitive accuracy test. If I ever locate the rail accessory, I will mount a scope and report back with results.
Conclusion -
The HK MP5 A5 rimfire is a great little plinker and all around fun gun. From the aggressive looks with the collapsible stock and faux suppressor to its easy handling characteristics, it's a great addition to the gun safe. The build quality on mine and the fun factor are well worth the $440 out the door.
*For those interested in the changes to the GSG-5 that came out of the legal proceedings, the redesigned GSG-522 has a removable picatinny rail on top of the receiver, and changes to the grip, sights, magazine release, cocking handle, trigger guard and safety selector. Some of these changes are considered by some to be an improvement to the handling characteristics of an MP5, but they do lose a lot of the MP5 look.
Heckler & Koch MP5 A5 .22LR (2245250) Specifications:
Caliber: .22LR
Barrel: 16.2" (412mm) match grade precision barrel
3 lug imitation compensator
1:13.75" twist rate, 6 grooves, rifling length of 13.78" (350mm)
muzzle thread M8x.75
Grip: NAVY pistol grip
Stock: 4 position telestock
standard MP5 forearm
length of pull 6.5" to 12.375"
Sights: H&K MP5 style, with a 13.2" (335mm) sight radius
rear - rotary diopter, adjustable for windage and elevation
rear sight aperture diameter 0.24", 0.13", 0.11", & 0.10"
front - adjustable for elevation only (includes interchangeable posts)
post width .07" (1.8mm)
hooded
Trigger: single stage, factory set to 6.6-8.8 lbs pull weight
Magazine: polymer with integral spring assist for easier loading
25 round capacity (one included)
sized to mimic the 9mm MP5 magazine
Other: metal upper and lower receivers
left side charging handle, right side ejection
semi-auto, blowback operation
last round bolt hold open with functional bolt catch
ambidextrous safety selector mimics the 9mm MP5 operation
H&K MP5 style sling swivels
H&K style geometry, weight, markings and controls
Officially H&K licensed and branded
Finish: matte black
Length: 26.5" (675mm) with stock collapsed
32.5" (825mm) with stock fully extended
Height: 10.6" (270mm) with magazine
Width: 2.2" (55mm)
Weight: 6.0 lbs (2700g) without magazine
2.5 ounces (70g) weight of empty magazine
Warranty: 1 year parts & labor
MSRP: $555 as of early 2011
Manufacturer: Carl Walther, Germany
Importer & Warranty Service: Umarex
Official website: http://hk22rimfire.com
Item numbers: #2245250/60 (A5 externally "suppressed" model with 25/10 round mag)
#2245255/65 (SD integrally "suppressed" model with 25/10 round mag)
Optional accessories: 10/25 rnd mags #2245310/11
Fixed stock #2245332
Picatinny rail #2245334
Picatinny sling swivel #2245331